The "Homepage" of VK4KKD
Amateur Radio - Without "CW" it's just "CB" ... --- ...
If you are looking for the global warming page go here
or you can see the One Man Tower being erected on uTube
http://www.youtube.com/watch?v=EPEX6GuauMs



---
Now a retired person enjoying the pursuits of Gemstone fossicking and fishing.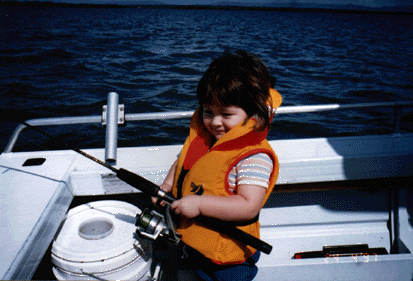 VK4FTEP age 2yrs and 2months - already copying Rex Hunt!
Catch 'em, kiss 'em and let 'em go .... ;-)
---
I still have some stock of brand new Camper Trailers for sale - they are being sold at bargain basement prices for clearance. (sorry only one left 12-10-11 the medium/large in the green colour)
Perfect for the fossicker or the ham who likes to go bush for a bit of portable field day operations.
A Medium/Large unit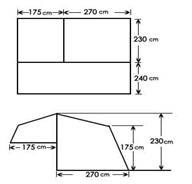 which provides 16.89 square meters of living space PLUS 4 square meters of off the ground sleeping space. The generous dimensions are shown in the above image. This is designated as the *169. (Drawing not to scale)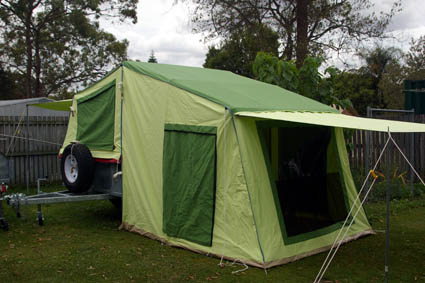 This pic shows the "Trees and Grass" theme of the medium camper. It has awnings at both the high and low ends because of the sloping walls. All windows have storm covers which can be either rolled up or set out on poles to give both shade and circulation. The extra heavy canvas walls and roof are made from the best quality cross stitched canvas to prevent small tears from becoming big holes ;-).
Both campers have full skirting and full length annex - annexes have walls and floors.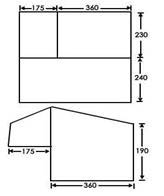 SORRY -ALL XL UNITS ARE SOLD.
Our second is an XL(extra large) unit with a massive 21.12 square meters of living area PLUS 4 square meters of off the ground sleeping space. This unit also has vertical walls which give full headroom right to the edge of the tent. This is designated as the *211 (Drawing not to scale)
Either of these camper trailers will suit from one person to a family of four with plenty of room while still retaining ease of erecting and stowing. With the fully floored annex attached you could easily accomodate a large group - 8+ people.
Colours have been specially chosen to provide for cooler interior and keep the natural feeling for either grass or water. Green and blue are the most naturally soothing "feel good" colours for humans - so the green fields and calm water colour schemes were chosen.
The 169 has pantone number 364 C roof and 372 C walls. Dark green roof for shade and light green walls for the feeling of a shady tree in open grassy fields.
The 211 has pantone number 541 C roof and 543 C walls. This provides a deep blue and light blue contrast to give a cooler interior and the feeling of looking out over a sky blue lake from under a shady tree.
While considering the various fit outs of the campers we have used over the years and the options offered on the market we were quick to note the way many force you to have your kitchen in one fixed location. This does not happen with our campers.
Instead of having your kitchen in a fixed slide out or swing out location we let you choose where you want to do your food preparation - instead of restricting you in flexibility and also dominating the available space. Inside - outside - you get to make the choice that suits you at the time - we do not try to dominate your camping holiday by making you do what we want.
For radio hobbyists the unit can be fitted with a portable mast to facilitate antenna mounting. Making a great asset for portable contesting or just keeping in touch while enjoying your outback adventure in this fantastic country.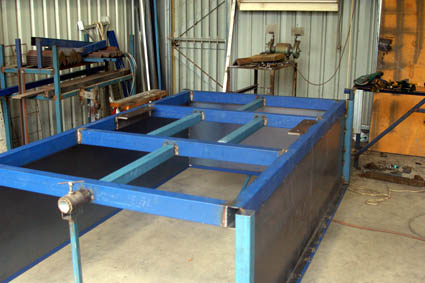 .....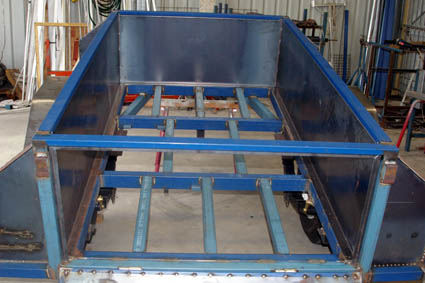 Full box chassis/frame - made to last not to a price.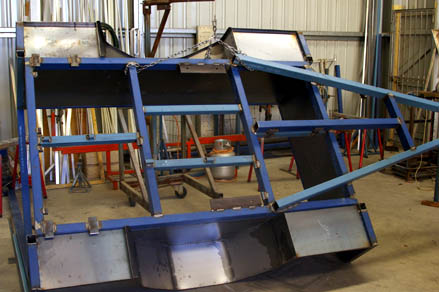 The drawbar is tough and long - giving good reversing control of the trailer - the triple members give full support right back to the front of the spring hanger to spread the load stress. The central drawbar member is braced back to the fore and aft chassis member as well as being welded to the chassis cross members. This configuration spreads the load and offers the highest strength to weight ratio.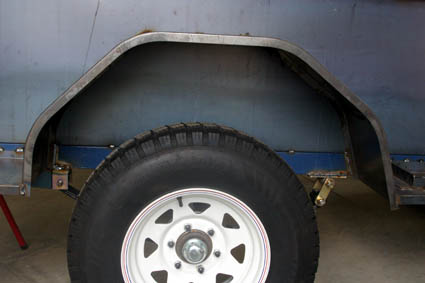 .....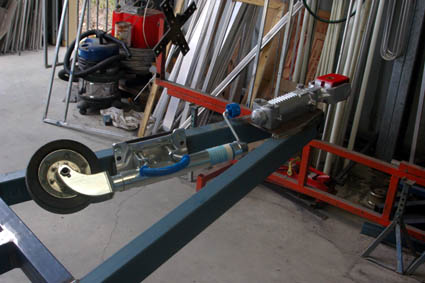 Plenty of wheel arch clearance has been built in to reduce the potential for the wheels becoming jammed in the arches in sticky muddy conditions.
A fold up jockey wheel has been fitted in a protected position and the TRIGG BROS. 2000kg polyblock off road coupling has been installed to provide the flexibility needed for real off road work.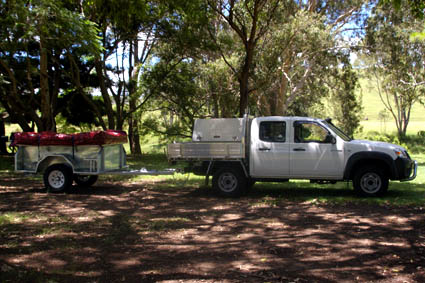 .....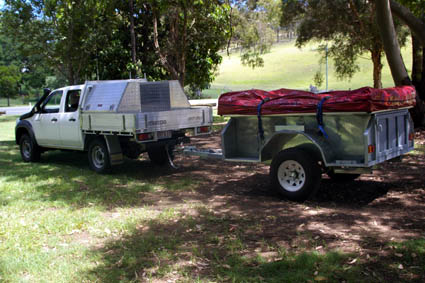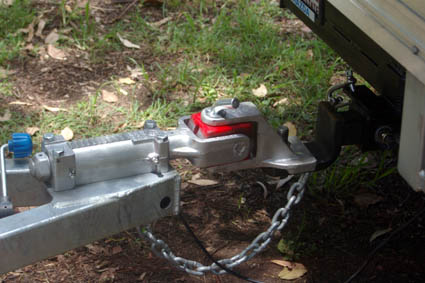 .....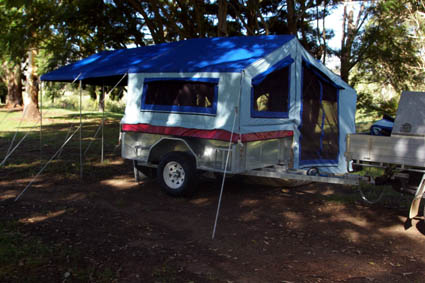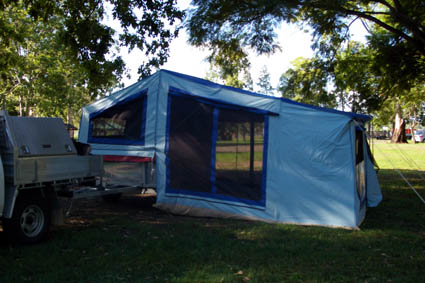 .....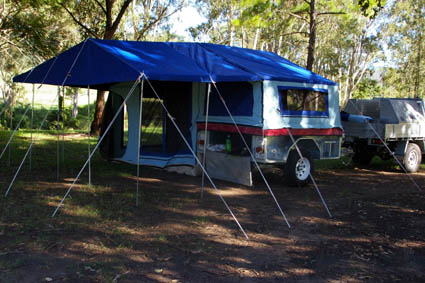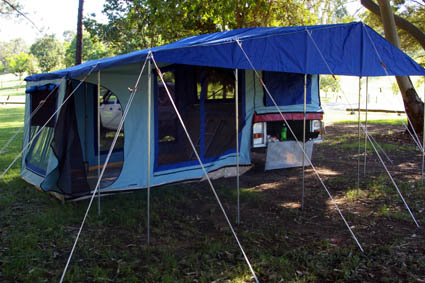 .....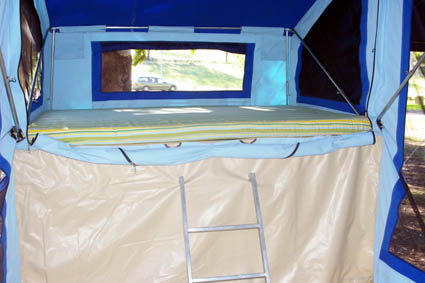 These pics of the very large "Sea and Sky" theme blue camper (SOLD) do not show the annex walls or flooring. And because of the full head height the walls are perpendicular - the large fully screened windows have storm flaps which can be either rolled up or pegged out to form awnings over the windows.
The camper trailers are built with a deep tray to facilitate transport of the EvaKool 70l rather than having to stow your fridge in the towing vehicle.
And unlike the portable fridges that have metal casings - the fantastic EVAKOOL FM70 does not bead with condensation and flood your vehicle with water.
.....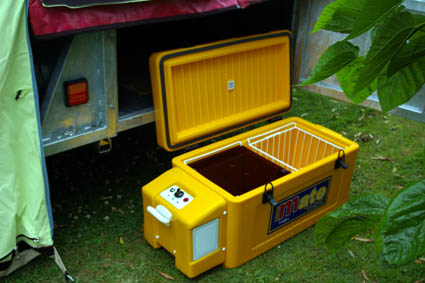 PROSPECTING EQUIPMENT.
"Rockhounding" and "Gemstone Fossicking" as well as "Gold Prospecting" all go hand in hand with camping.
With that in mind we have included in our inventory a fantastic fold-away gravel washer ("Willoughby" style) and sorting table combination PLUS a fantastic recirculating gold sluicewashing table, and a strong tripod sieve shaker.
The fold-away gravel washer/sorting table is easy to assemble and easy to stow away and provides a work station to wash and then examine the wash on a convenient waist high sorting table.
The recirculating sluice means you can wash fines even where no water is available if you simply cart in 60lt of water to fill the sumps. Depending on the type of gold you are working the "high banker" type device can be fitted with a variety of sieves - we have been easily able to collect 100% fine (flour) gold with no gold escaping the sluice. The sluice table is served to perfection with a 550 gph bilge pump and can be located several meters above the river bed if needs be. Higher water lift can be achieved using a larger volume pump but all of our needs so far have been easily managed with the smaller unit which runs all day on a mid sized deep cycle battery of 50ah capacity (AGM battery) - the flow of water is perfect to wash the gravel and provides the perfect flow across the riffle mat in the sluice.
All framework is fully hot dip galvanised after welding for a long corrosion free life.
Keep watching for pics of this equipment.


Mobile Phone. 0414 254 080
Call and discuss your requirements with us.
Keep an eye on this page - more to come.
UNDER CONSTRUCTION
Now have the option to provide the fantastic Aussie made portable freezer/fridge made at Caloundra Qld. by one of the best group of people you can imagine. I was given the opportunity to visit the factory and be shown through the process. My immediate impression was "if a workforce can keep their working environment as neat and tidy as these people do then they obviously take a great deal of pride in the product and themselves" - without any hesitation I asked to become a reseller of these fantastic products.
So when you order your camper from us now we do not have to send you off to shop for a portable refrigeration unit we can fit the fantastic "EVAKOOL" units for you.
I have taken my own FM70 all over Australia - from Cape York to Cape Leeuwin - across the Simpson Desert and to the snow fields. It has never let me down and provides me with the ability to spend long periods in the remote regions. I run 4 x 40w solar panels fitted to the lid of my camping trailer to charge the 120A battery on the trailer while camped and even on cloudy days the panels still keep up with the power consumption of the FM70.
Visit the EVAKOOL website to view the product - at the homepage of Evakool click on the link to the Fridgemate range of portable fridge/freezers.
Then give us a call for your special price.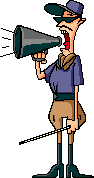 Also we are now manufacturing an alternative to the CAMPER TRAILER - why?
IT'S A "CAMPING" TRAILER - NOT A CAMPER TRAILER!
(SORRY - ALL SOLD)
Only ONE "CAMPER TRAILER" LEFT)
Because many people already have a perfectly good tent and ancillary bits - all they need is a decent trailer to stow it all in and tow it to their favorite spot. Standard "road trailers" (box trailers) are just not up to the job of trekking into the outback and negotiating serious off road territory.
With that in mind we are now able to supply our trailers without the camper top - instead of the camper top you get a dust proof lid that hinges up and is supported by gas struts - it incorporates a boat rack suitable for carrying a lightweight tinnie (or you can fit a "roof rack" for carrying a bit of extra gear). The flat lid also makes a perfect mounting platform for a serious solar panel array. My suggestion to anyone considering fitting solar panels is that they opt for multiple lower wattage units instead of one large wattage panel. For example my own trailer is fitted with four 40w panels instead of one 160w panel. The reason being that if the one large panel is damaged then you have lost your solar capability completely - but with multiple smaller panels the loss of one only reduces your capability, you still have solar capability from the remainder albeit slightly reduced.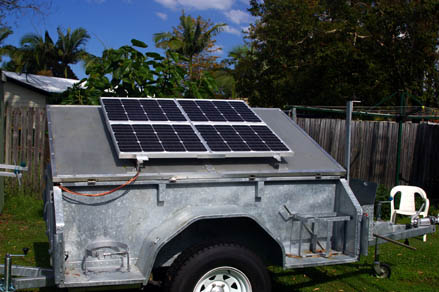 With four 40w panels I am able to keep two 120AH deep cycle batteries fully charged - even a four day period of overcast does not see the system drop below 12.6V and that is with the FM70 EVAKOOL operating as 50% freezer 50% fridge. Plus I run very good camp lighting (LED) and operate ham radio using the system - an inverter is built into the system to allow me to run my laptop computer and charge a diverse range of other rechargeable cells to operate other bits and pieces around the camp. In addition I also charge a third 120AH AGM battery to use with the 55lb thrust Minn Kota 'Riptide' electric trolling motor, rotating it with one of the batteries from the trailer I never run out of power for the electric motor.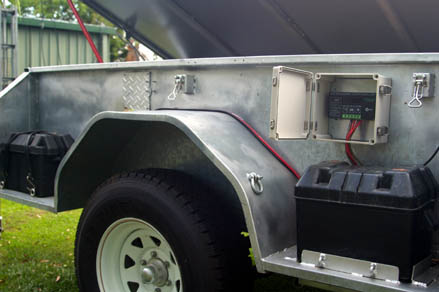 .....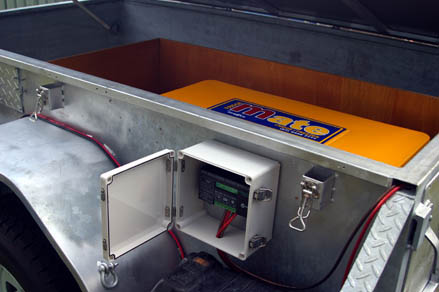 You get the same ruggedly built trailer - ready for the toughest off roading - optional shock absorbers suspension kit can be fitted if required. The deep bodied trailer can be packed with lots of gear - the FM70-FF (70 litre fridge/freezer made by EVAKOOL) fits in perfectly at the rear in a protected compartment of its own and slides out for easy access on the tailgate.
Plenty of room for a big tent - water - food - fuel - tables - chairs - stretchers - bedding - and whatever you want to tote along on your outback wilderness trek - all in a trailer that will handle the job and not leave you stranded.
A very versatile option - you do not have to climb ladders to get in and out of bed - no more climbing over your partner in the middle of the night to answer the call of nature - PLUS you can set up camp and still use the trailer to take your boat to a suitable launching spot - with all of your valuables safely locked away inside the trailer.
Another benefit of the solar panels on the lid - this is a very much desired feature for those growing number of places where generators are not allowed.
The big PLUS of the "CAMPING" trailer in this situation is that the trailer can be parked out in full sunlight while your main camp/tent is erected in a cooler shaded location nearby. The trailer is easily parked in the optimum position for the solar panels to collect the maximum amount of sunlight. The lid can be tilted to the perfect angle to get the full output of the panel.
Provision for a quick deploy tarp off the side of the trailer for those lunch breaks along the trackside or when you just want to sit in the shade and enjoy the scenery while you have a cuppa. Pull off the road - open the lid - pull out the tarp and set up your table and chairs for a bit of a relax.
Yes it is an expensive exercise - but it is well worth the expense to be totally independent and have the ability to provide yourself with some serious versatility for really remote travel.
KEEP AND EYE ON THIS PAGE AS THERE WILL BE A LOT OF PHOTOS ADDED.